Welcome to Corpus Christi Church Religious Education
THE CORE ELEMENTS
With these elements, we seek to cultivate the hearts, minds, and souls of our students to their fullest potential.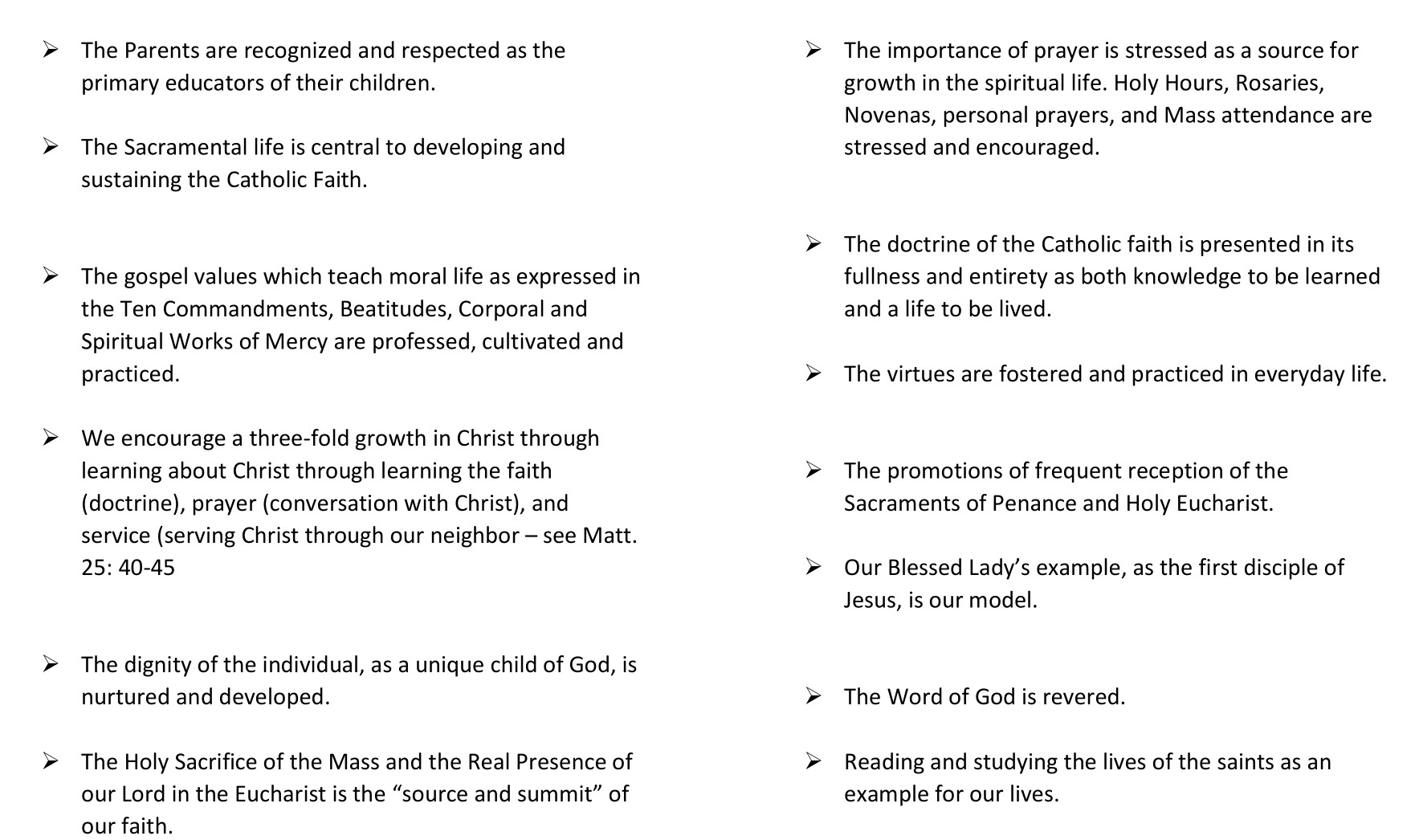 High School Religious Education 2022-2023 (Grades 9 - 12)
The High School Religious Education class, CCD, grades 9-12 only, will be held on Sunday evenings 2x per month from 5 - 6:30 pm, at the Parish Office
located at 41677 Corpus Christi Dr., Aldie, VA.
Dinner will be provided.
Join Father Taylor and Mr. Chris Costello for our first class on September 18.
There is no need to register and there is no fee to attend. We hope that you will join us!
High School RE Calendar 2022 - 2023
Religious Education 2022-2023 (Grades 1 - 8)
Corpus Christi Religious Ed Classes are held

Monday

evenings from 6:00 - 7:15 PM at St. Paul VI Catholic High School
42341 Braddock Rd, Chantilly, VA 20152
We also request that students refrain from wearing pajamas to CCD classes.
*****
*****
*****
Parish Contact - Shelly Costello - Director of Religious Education
email: This email address is being protected from spambots. You need JavaScript enabled to view it.
phone: 703-378-1037
Religious Education Registration 2022-2023
NOW OPEN
Families MUST be registered with the Parish prior to enrolling in religious education. The Parish ID number is necessary for the enrollment process. The Parish ID number can be obtained from your offering envelopes, faith direct under "update personal information tab "or by contacting the Parish Office.
If you need to register with the parish, visit our New Parishioners link on our homepage for instructions.
RE students returning to the program must re-register each year.
Registrations are considered complete when:
Online Registration form is submitted.

Online payment is complete through FAITH DIRECT

Baptism certificate submitted* for Students enrolling to prepare

for First Holy Communion or Confirmation, including Sacrament Prep (students missing a Sacrament).
STUDENTS WITHOUT THE ABOVE REQUIREMENTS WILL NOT BE REGISTERED
Registration opens June 7, 2022. To assure your child a place in the Fall, please register by the deadline of August 31st.
2022-2023 Fees
Before August 7th
1 Child: $150.00
2 Children: $250.00
3 or more Children: $350.00
Sacrament Prep fee $50.00 (For students preparing for First Communion or Confirmation only)
**
After August 8th
1 Child $200.00
2 Children $300.00
3 or more Children $400.00
**
SPRED: No Fee
Catechist & Aides No Fee
Landscaping / Snow
We are so blessed to have 17.9 acres of land that surround our church.
One responsibility that arises for us is the need to take care our lawn.
We have made the investment in some nice machinery to get the job done with the least amount of effort.
If you would be able to help (2 hours a month?) us with cutting, edging or trimming, please contact Pablo at:
Many hands will make light work so please consider volunteering.